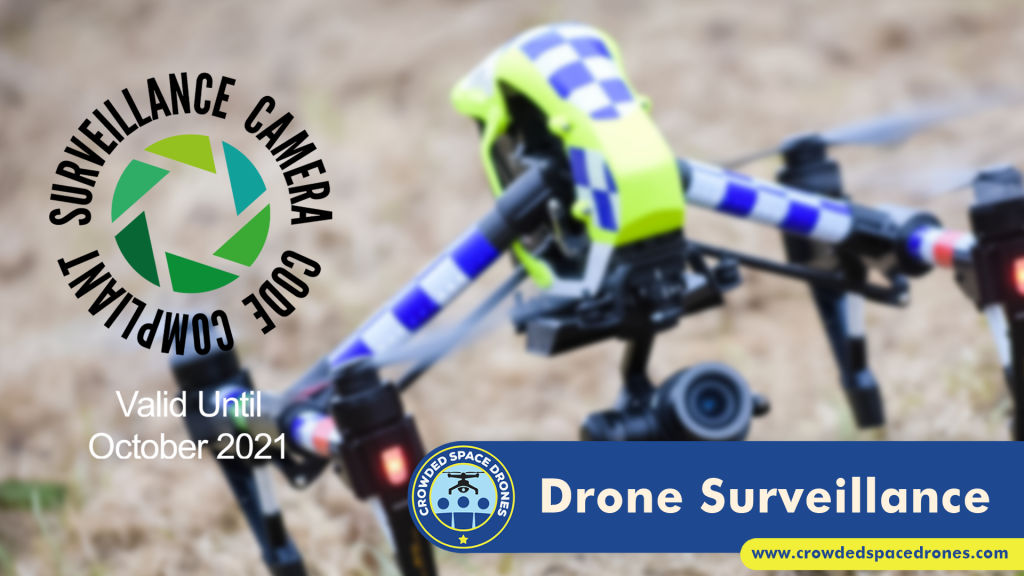 Crowded Space Drones receive first private sector Surveillance Camera Commissioner certification
Wednesday 14th October 2020

We are finally able to announce that we have become the only private sector drone organisation in the UK to so far be certified by the Surveillance Camera Commissioner for the use of drones in surveillance.
This certification has been granted following a comprehensive independent audit by IQ Verify Ltd on behalf of the Commissioner. Previous surveillance deployments were also audited to ensure historic work has complied with the law and best practice procedures.
Historically, this certification has only ever been granted to public sector organisations such as the Police and NHS, so this represents a huge leap forward in compliance for the use of private sector drones in United Kingdom airspace.
This gives our clients complete confidence in our ability to conduct lawful surveillance of all types with drones, above and beyond any other drone services provider.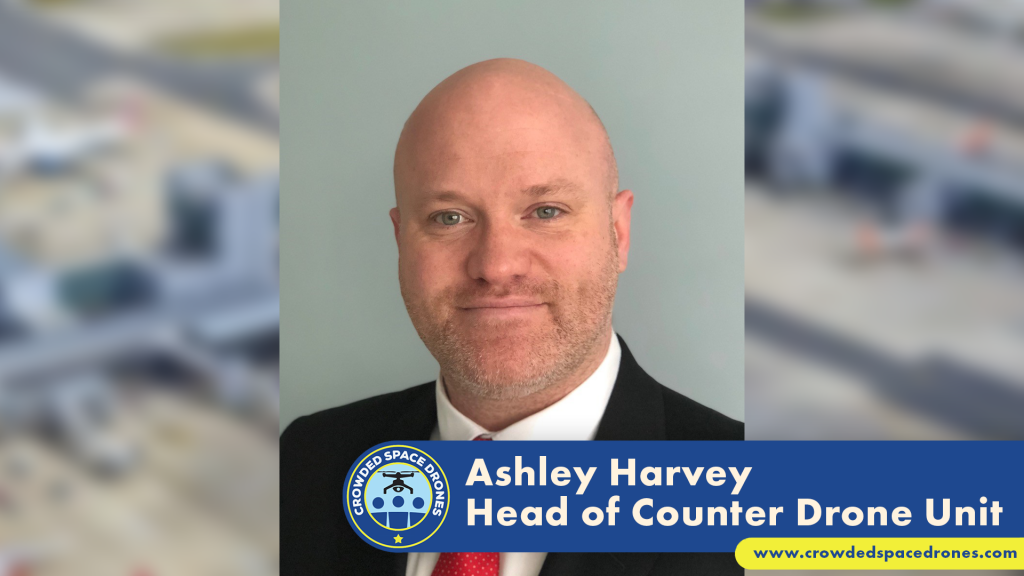 Ashley Harvey, Gatwick Airport's Unmanned Aircraft System (UAS) lead has joined Crowded Space Drones as the head of our Counter Drone Unit.
Wednesday 2nd August 2020

We are delighted to announce that Ashley Harvey, Gatwick Airport's Unmanned Aircraft System (UAS) Lead has joined Crowded Space Drones as the head of our Counter Drone Unit.
Ashley commented on his new role: "I am very excited to be joining a company with such a great experience and depth of knowledge of the positive uses of drones and the problems associated with unauthorised drones in airport environments. Many airports and public safety agencies want to learn from what happened with the UK airport drone incidents, and I am looking forward to helping them protect their airports and critical infrastructure."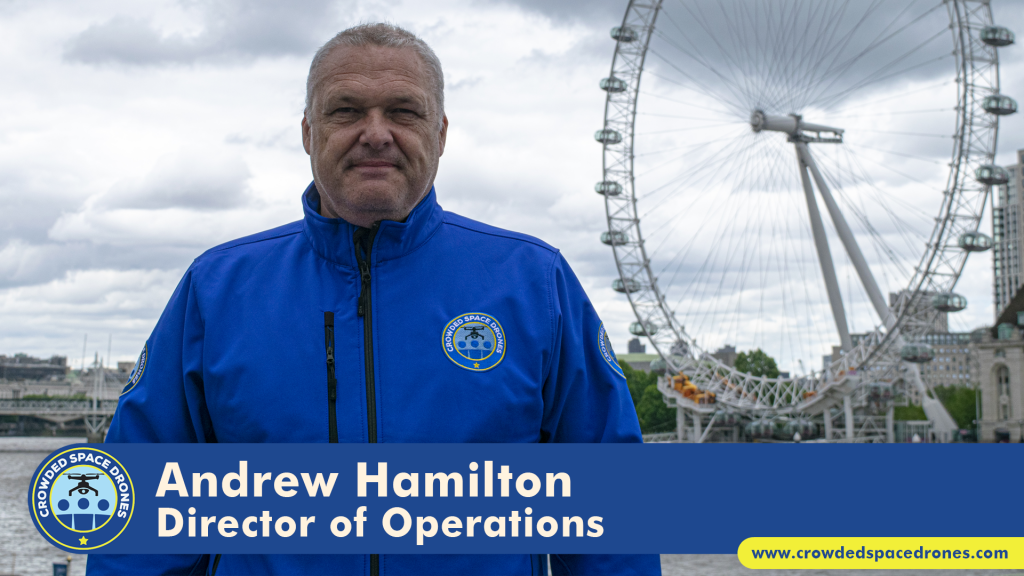 Andrew Hamilton, Civil Aviation Authority Unmanned Aircraft System (UAS) lead has joined Crowded Space Drones as our Director of Operations.
Tuesday 30th June 2020
Andrew has been involved in drones for nearly 10 years and whilst an Inspector with Devon & Cornwall Constabulary, founding the first ever 24 hour UK Police Drone Unit which now has over 50 Police Officers trained as pilots. Following this, Andrew joined the Civil Aviation Authority, transforming their systems and processes to the benefit of the wider drone industry.
Under his leadership at the Civil Aviation Authority, Andrew has overseen the approval of drone delivery programs, such as the delivery of medical equipment to the Isle of Wight to assist with the Coronavirus response. He also assisted in the roll out of Drone & Model Aircraft Registration and Education Scheme (DMARES) and significant improvements to the process of applying and renewing commercial drone permissions.
Our Managing Director, Andrew McQuillan commented "Our entire team is absolutely thrilled to have Andrew Hamilton join us to lead our flight operations, there is simply no one in the United Kingdom who has more knowledge, experience and know how in all aspects of the drone industry. This will be a massive benefit to our clients and also help us ensure we are the safest drone operator. Andrew joins the team as part of our ongoing growth plan, which includes capital investment and the creation of approximately 20 new jobs for Pilots, Flight Crew and other support roles involved in Surveying and Inspection over the next 12 months."
Andrew Hamilton explained his plans for the future: "The existing UK drone regulations will soon change when the new EU regulations come into force towards the end of the year. This will see some fundamental changes as to how drones can be used both as a hobbyist and a commercial user.
I am looking forward to using Crowded Space Drone's experience and resources to build programs for drone operators on how they can understand and meet the new requirements to ensure they operate safely and within the law. I believe this is a great opportunity to work with operators who want to learn a more advanced level of drone operations and look to achieve enhanced permissions from the CAA."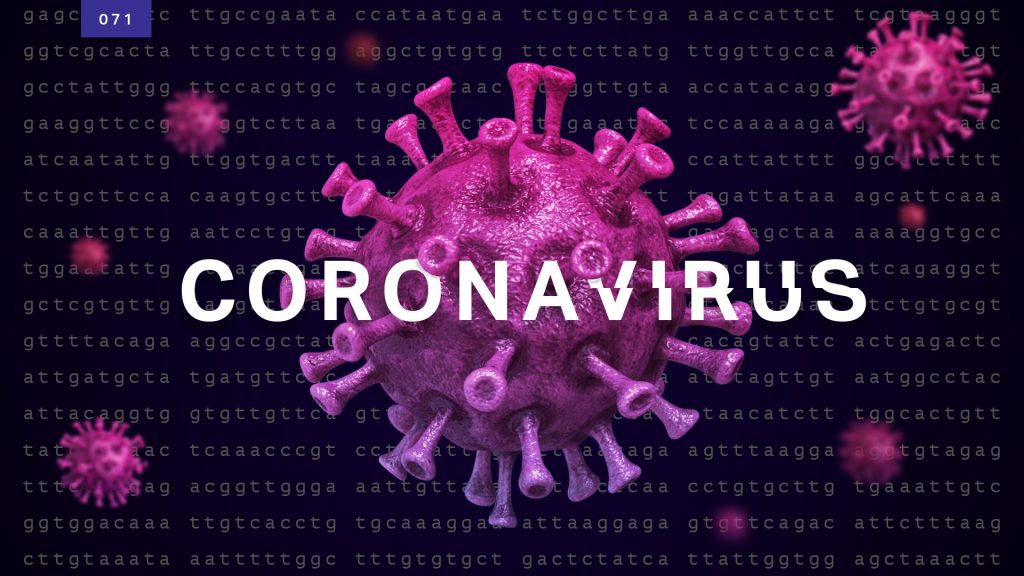 COVID 19 Operational Update
Friday 20th March 2020
Crowded Space Drones are currently fully operational, with our Business Continuity Plan activated to guarantee our ability to deliver services during the current Pandemic.
Following requests from the United Kingdom government & public agencies, we have expanded our role in assisting public safety and health from issues & incidents arising from the current Pandemic.
Our role includes aspects of backfilling crucial drone services normally conducted by the Emergency Services as they refocus and prioritise their role.
We have additional procedures in place to ensure we keep all Flight Crew safe whilst on these deployments, this includes providing them with appropriate PPE.
We have increased our drone & vehicle fleets, recruited additional Flight Crew and activated a 24/7 Control Room to support our clients and provide round the clock ability to respond.
The above is in addition to our normal provisions of services to private sector and Television industry.
We will provide further updates when prudent.